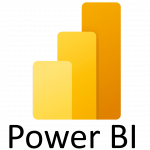 Industry Education Programme
Microsoft Power BI connects and visualises any data using the unified, scalable platform for self-service and enterprise business intelligence (BI) that's easy to use and helps users gain deeper data insight.
PowerBI offers businesses easy access to, model, and visualise their data, creating memorable reports personalised with their KPIs and brand. In addition, they provide fast, AI-powered answers to users' business questions—even when asking with conversational language.
Are you interested in a training on this programmes? You can join the next cohort of students who will develop their skills, work on projects, and connect to work opportunities in this industry programme.
Similar Education Programmes