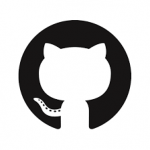 App Builders; Full, Low to No Code:
(In partnership with GitHub)
Industry Education Programme
GitHub is a computer software platform the world uses to build different software. Millions of developers and companies create, ship, and maintain their software on GitHub. GitHub is the largest and most advanced development platform in the world.
Github is a platform that helps build a home for all developers. GitHub is the best place to share code with friends, co-workers, classmates, and strangers. Over 73 million people use GitHub to build amazing things across 200+ million repositories. With all the collaborative features of GitHub, individuals and teams can write faster, better code.