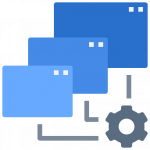 Robotic Process Automation
RPA is transforming how companies engage human resources. RPAs as computer systems help humans to be more productive through the reallocation of efforts to high-level decisions while delivering routine tasks at a faster speed and with more accuracy.  It is also one of the technologies in digital transformation expected to displace a high number of jobs as companies hire for more essential tasks in their pursuit of efficiency.
Robotic process automation (RPA) is the automation of routine performance by emulating human actions in interacting with software systems. RPA technology makes it possible to build, deploy, and manage software robots that understand the actions being performed on a screen, identify data sources for data extraction, and perform a wide range of other defined actions humans perform at work. 
Career and Industry Opportunities
Robotic Process Automation skills are relevant across all careers and industries where data entry, extraction and processing are required. Leading among these industries are Banking, Insurance, Healthcare, Public Service, Manufacturing, Information Technology, Sales & Retail, the Public sector, Telecommunications, and Human Resources & Staffing.
Industry Education Programmes to Get Started
You can get the skills required from the learning resources of the following technology companies:
Competitions and Project Opportunities
Bot Games: Hackathon: The Bot Games Hackathon is an opportunity for developers to win cash and get inspired by creative automation across the community.

Bot Games: Bot Wars: Bot Wars is designed to uplevel RPA developer skills, test RPA expertise, and encourage creative problem-solving. Learn more.
Internship, Job and Business Opportunities
See employers in the consulting and Information Technology on the Industry Portal
Are you interested in a training on this programmes? You can join the next cohort of students who will develop their skills, work on projects, and connect to work opportunities in this industry programme.