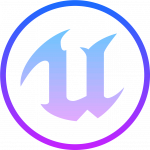 Industry Education Programme
Unreal Engine is a 3D computer graphics game engine developed to bring unique real-time experiences to life using the world's most advanced real-time 3D creation tool. It aims to empower large and small teams to push the boundaries of what's possible visually and interactively.
UE5 enables game developers and creators across industries to realise next-generation real-time 3D content and experiences with greater freedom, fidelity, and flexibility than ever before. 
Are you interested in a training on this programmes? You can join the next cohort of students who will develop their skills, work on projects, and connect to work opportunities in this industry programme.
Similar Education Programmes