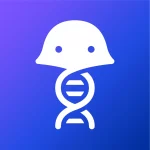 (In partnership with Benchling)
Industry Education Programme
Bioinformatics applies digital technologies to collect, store, analyze and disseminate biological data and information. These may include DNA, amino acid sequences or annotations about those sequences. Scientists and clinicians use databases that organize and index such biological information to increase our understanding of health and disease and, in certain cases, as part of medical care. 
Benchling makes collaborative research and development possible in the biotechnology industry through cloud-based tools in biotech research for digital DNA sequence editing, designing and running experiments, analyzing data, and sharing research. 
Benchling offers solutions in the following areas:
Benchling software includes an electronic lab notebook that allows researchers to document their experiments. Benchling claims their notebook software reduces data entry time by up to 85%. 
The molecular biology suite is an integrated, all-in-one, interface offering CRISPR guides, automation of primer designs, plasmid visualization, sequence alignment, and other relevant biological and chemical software tools.
The bioregistry is a fully integrated platform for creating, organizing, and documenting workflow for biologists, particularly for sequence editing and strain engineering. Benchling designed the bioregistry to track and assign features to organisms, import data from standardized databases, and give biologists the power to take notes within the bioregistry itself.
Sample tracking
Benchling offers an inventory tracking system with their software. The system allows for the tracking of individual samples, containers, and instruments within the lab.
Workflow management
Benchling offers a workflow management systems that helps to design and manage work, provide feedback on progress, identify workflow bottlenecks, and improve decision making.
Are you interested in a training on this programmes? You can join the next cohort of students who will develop their skills, work on projects, and connect to work opportunities in this industry programme.