Johannesburg, Lagos, Nigeria, South Africa

McKinsey invite individuals who are passionate about Africa to apply to African Leaders on the Move to learn more about McKinsey offices, roles, and work in the region. McKinse would like to invite you to the 12th edition of 'African Leaders on the Move' event, "Shaping Africa's Growth Transformation".
McKinsey has six offices in Africa – Johannesburg, Lagos, Luanda, Casablanca, Nairobi, Addis Ababa. We serve many leading African organizations across sectors including energy and materials, financial services, consumer goods and retail, telecommunications, infrastructure and logistics, as well as the public and social sectors. McKinsey also play an important role in building capabilities and creating African leaders—both in our clients' organizations and in our own.
At the event, you'll learn about McKinsey's work in Africa, network with our consultants  and discover exciting career opportunities. During these two days, we will share insights and engage in discussion with McKinsey's leaders on how the continent is transforming. You'll also hear about the inspiring journeys of our consultants.
The event is open to students in their penultimate or final year as well as working professionals with up to 4 years' experience who are passionate about Africa.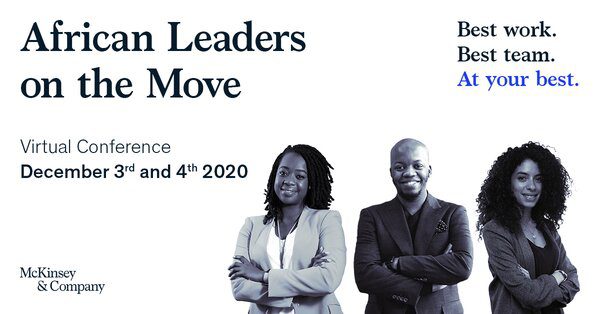 Date
December 3 – 4, 2020
Eligibility
McKinsey welcome applicants from various academic or professional backgrounds interested in pursuing an exciting career in consulting and passionate about working in Africa.
Undergraduates, post-graduates, and professionals with up to 4 years of experience are invited to apply.
This event is non-evaluative. It is an opportunity for you to get to know us and learn more about working with McKinsey in Africa.
What to expect
Attendees will have the opportunity to do the following:
interact with McKinsey leaders as they talk about their entrepreneurial journeys, personal experiences, and expertise
participate in workshops-involving topics such as public sector, digital, banking, energy, and others-to learn about McKinsey's work and problem-solving approach
learn about the potential opportunities offered in Africa
Those selected to attend will be notified three days before the event.
How to apply
To be considered to the African Leaders on the Move event, we ask that you submit the following:
Your CV in English (2 pages maximum). Your CV should include details of your education and grades, work experience, and extracurricular activities and achievements.
Africa office location preference. We advise you to make your choice based on geographic ties—that is, you have studied or lived in the country. You should be fluent in the local language and meet work eligibility requirements of the country where the office you apply to is located.